Chungnam Province, the largest asbestos-damaged area in Korea..."…
관리자
0 2815
2022.03.14 16:37
Korean language article, please click here: http://eco-health.org/bbs/board.php?bo_table=sub02_03&wr_id=1270 
Japanese language article, please click here: http://eco-health.org/bbs/board.php?bo_table=eng_01&wr_id=86
Chungnam Province, the largest asbestos-damaged area in Korea..."Never-ending pain". 
Hankyoreh Daily 2022.03.09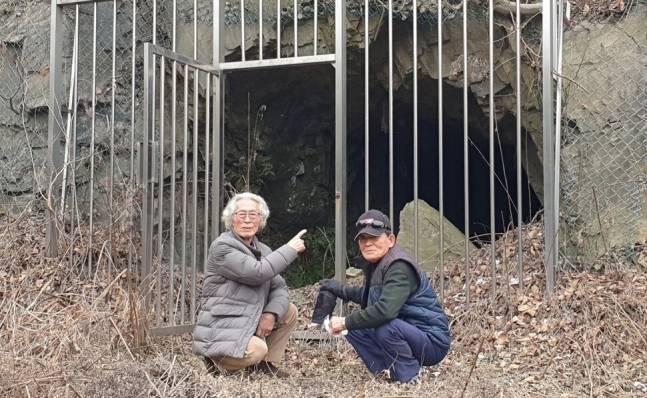 [Photo: Lee Nam-eok (76, left) and Lee Young-ho (84, right) are sitting in front of the remaining cave at the asbestos mine site in Gwangcheonseok-myeon, Sangjeong-ri, Gwangcheon-eup, Hongseong-gun, Chungcheongnam-do. Lee Young-ho, who was born and raised in Sangjeong-ri, was also diagnosed with level 3 asbestosis. Reporter Choi Yerin.] 
On the afternoon of the 7th of last month, Lee Nam-eok (76) took a breath and climbed Jigisan Mountain (324m) in Sangjeong-ri, Gwangcheon-eup, Hongseong-gun, Chungcheongnam-do. As we reached the middle of the mountain, the site of Gwangcheon Mine, once Asia's largest asbestos mine, appeared. Gwangcheon Mine, which operated from 1938 to 1986, produced 190,000 tons of asbestos annually. Solar power generation facilities were densely installed in the large mine site, which was flattened by restoration work.
Entering the mine site, there was still an unfilled cave. Lee, who was looking inside the cave in search of asbestos stones that may remain, said, "I am suffering like this because of this asbestos." "My condition is only getting worse," he said with tears.
There was also an asbestos mine near Guseong-myeon, Hongseong-gun, where Lee was born. He lived near a mine where asbestos flew until he was five years old and moved to Gwangcheon-eup, where there was also an asbestos mine in Gwangcheon-eup. I spent my childhood running around with my friends in front of Gwangcheon Station, where asbestos produced throughout Hongseong was piled up.
Lee was diagnosed with first-class asbestos in 2011. Asbestos lung is a disease in which asbestos fiber enters the lungs and strengthens the lungs, and it can easily lead to shortness of breath and dry cough, and if symptoms worsen, it can develop into heart disease or lung cancer. Once stuck in the lungs, asbestos does not escape and digs deeper and deeper.
Lee's friend Kim Sang-bae (76) was born and raised in Cheonggwang-ri, Guhang-myeon, Hongseong-gun. As a child, in Kim's village, the domestic water industry, which extracts threads from asbestos produced in nearby mines, was prevalent. Kim's mother also pulled out asbestos chambers with a spinning wheel at home. Kim, who was diagnosed with second-degree asbestos lung, said, "My mother's face and eyebrows were always white because of asbestos powder. I grew up with that kind of mother's When I was in elementary school, asbestos was scattered on the streets of the village. I guess that's why you have this kind of lung disease."
There was an asbestos mill in Magang-ri, Jupo-myeon, Boryeong-si, hometown of Park Gong-soon (79), who lived together with Kim, his brother and brother. Park has worked at a mill in front of his house for two years since he turned 18. When asbestos gemstones were carried into a forklift, they were ground into powder at a mill, sifted the ground powder, and then put in a bag.
Park, who was diagnosed with second-degree asbestos in 2011, said, "The whole village has always been cloudy. At that time, I had no idea asbestos was this dangerous. "Because I bit and ate asbestos to play a joke," he said. Park's mother was also diagnosed with grade 3 asbestos before her death, and both younger sisters are also second-degree asbestos patients.
■ Class 1 carcinogen, "asbestos"...Silent killer.
Asbestos is a first-class carcinogen designated by the World Health Organization (WHO). Small nano-scale asbestos fibers such as ultrafine dust float in the air. When entering the human respiratory tract and being stuck in the lungs, it causes diseases such as malignant mesothelioma, lung cancer, asbestos lungs, diffuse pleural thickening, laryngeal cancer, and ovarian cancer after a long incubation period of 10 to 40 years.
Asbestos is flexible and resistant to high temperatures of 1,200℃, and has been used for various purposes such as building materials, ships, and automobile parts. Numerous mining workers, factory workers, and consumers were exposed to asbestos in the process of digging gemstones in mines and crushing them into raw materials in the form of asbestos fiber.
In Korea, asbestos mines began to be developed by Japanese imperialism in the 1930s. In particular, as the Pacific War broke out and it became difficult to import asbestos designated as war supplies, Joseon intensively developed asbestos mines to procure it.
Even after the harmfulness of asbestos was known, it was treated as an occupational disease factor for some workers handling asbestos. Since 2005, the problem of exposure to asbestos has emerged one after another in the process of demolishing buildings in reconstruction and redevelopment areas, and it has begun to be regarded as an environmental problem. In 2007, asbestos diseases were identified as a group by residents near asbestos textile factories in Busan, and in 2009, when asbestos use began to be completely banned, mass asbestos diseases were observed in villages near asbestos mines in Hongseong and Boryeong, Chungcheongnam-do.
Earlier in July 2008, asbestos victims, environmental groups, and experts combined to form a Korean asbestos deportation network, and launched a national signature campaign to enact a special law on asbestos damage. As a result, the Asbestos Damage Relief Act was enacted in 2010 and took effect in 2011.
Chungnam is the region with the largest number of asbestos victims in the country. From January 2011 to July 2021, when the Asbestos Damage Relief Act was enforced, 5295 people were recognized as asbestos victims nationwide, of which 1,943 (36.7%) were victims in Chungnam. It was followed by 851 in Busan, 770 in Gyeonggi, and 571 in Seoul.
More than 80% of victims in Chungnam are concentrated in Hongseong (957) and Boryeong (642). This is because asbestos mines are concentrated in these areas. According to a report released by the Environmental Health Citizens' Center in January, 28 out of 42 asbestos mines nationwide were in Chungnam.
In 2008, the Ministry of Environment surveyed five villages in Hongseong and Boryeong, Chungcheongnam-do, where abandoned asbestos mines were concentrated, and a test of 215 residents showed symptoms of asbestos disease in 142 people. Since then, medical checkups, which had been limited to residents around abandoned mines in Chungnam, have gradually expanded around other asbestos mines nationwide.

[Photo: In 1940, the mine in Gwangcheon-myeon, Hongseong, Chungcheongnam-do. provided by the Citizens' Center for Environment and Health.] 
■ Order for establishment of local medical institutions and archives
Park Jae-deuk (78), who lives in Deokjeong Village, Sangjeong-ri, Gwangcheon-eup, Hongseong-gun, worked at Gwangcheon Mine in the mountain behind the village for 18 years from 1968 to 1986. He was also diagnosed with level 3 asbestos lung. His illness is caused by his occupational background in asbestos mines, but he is not covered by industrial accident compensation insurance. This is because asbestos mine workers were not covered by industrial accident insurance, and it is not easy to prove their work history when the mine was closed. Support under the Asbestos Damage Relief Act is only 20-30% of industrial accident insurance.
Choi Ye-yong, director of the Environmental Health Citizens' Center, said, "The government left asbestos mines unattended after they were closed in the 1980s. As a result, the state is also responsible for the health damage of residents in asbestos mines, he said. "The damage relief law is operated with funds paid by companies, and the state should take responsibility and raise the level of relief support for asbestos victims to no difference from industrial accident insurance." He also said, "Asbestos disease occurs after a long incubation period of 10 to 40 years, so more victims could emerge around asbestos mines in the future," and emphasized, "We need to work harder to monitor asbestos diseases and find victims."
Some point out that professional medical treatment should be provided in Hongseong and Boryeong, Chungcheongnam-do, where many victims are concentrated. Shin Eun-mi, secretary-general of the Yesan Hongseong Environmental Movement Federation, said, "In order for asbestos victims in Chungcheongnam-do to receive medical treatment, it is difficult to move because most of them are elderly."
Discussions are also underway to establish an asbestos damage record center in South Chungcheong Province. Director Choi said, "There is a tendency to restrain the asbestos problem in the region for fear of economic damage, but we need to record that there was such damage in our region, and it is dangerous," adding, "The UK, Australia, and Japan have already set up records to reflect on the lessons of asbestos damage."
In this regard, Park Mi-hwa, an official at the Blue Sky Planning Division in Chungcheongnam-do, said, "We are discussing ways to deploy a respiratory specialist at Hongseong Medical Center, but we are struggling because no doctor has been found."